Brazil Yoga Retreat
Event Navigation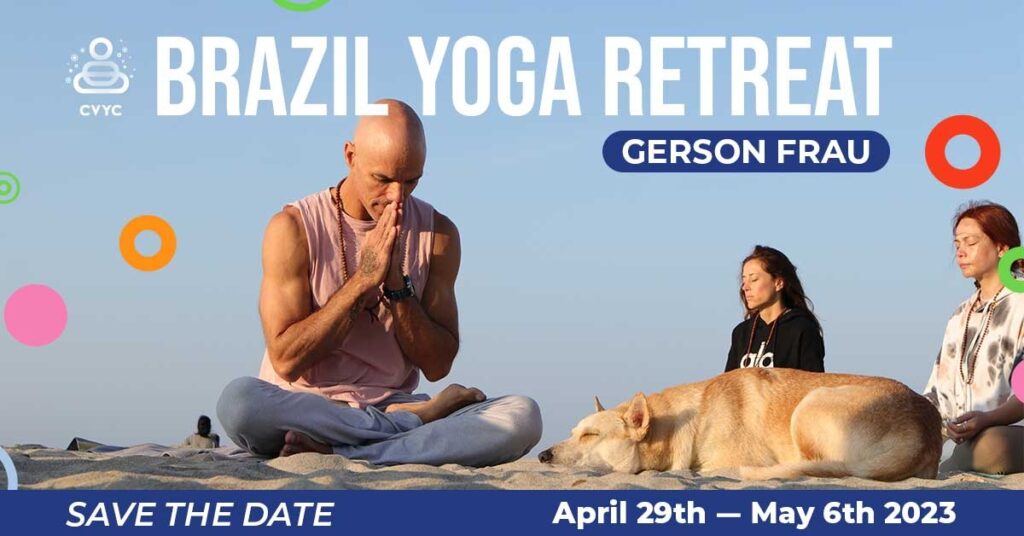 DATES: April 29th- May 6th 2023
with Gerson Frau
During this retreat, you will explore the depth and benefits of a complete yoga practice but also incorporate healthy eating. Meals are prepared with ingredients grown at the farm and from other farms that surround the area. Always respecting the animals and all natural life by approaching food with Ahimsa (without any violent actions).
Daily Activities: Meditation, Pranayama (breath work), Yoga (physical practice), Evening Restorative, Yoga Nidra, Yoga Philosophy ( Bhagvad Gita, Yoga Sutras Lectures). 
Accommodations: double rooms ( 2 beds, 3 beds ) with shared bathrooms.
VENUE: Located in the Mountains of Sao Bento Do Sapucai, at the foot of Pedra do Bau. It is the perfect refuge to scape the chaos of daily life. You'll spend peaceful comfortable days, sleeping to the sound of nature, taking walks, enjoying natural water falls, bathing in Eco Mineral water pool that is completely free of chemicals. The water comes form a nearby mine and is translucent; providing refreshing baths that soothe the body.
How to get there:
Closest airport is International Guarulhos/Sao Paolo.
From there, we will arrange transportation for attendees to arrive at their final destination. It's about a 3 or 3:30 hr drive from the airport.
Retreat starts Saturday at 1 pm. Please Plan your flight and travel time accordingly. (Air or Land Transportations are not included with retreat cost). 
Frequently Asked Questions:
– Do I have to be an advanced yoga practitioner?
Answer: Answer: All levels are welcome. Variations are given throughout the entire class from beginners to advanced postures. 
– Can I make payments?
Answer: Yes, after a $500.00 dllrs deposit, a 4 installment payment plan is available. 
– What type of clothes do I take?
Answer: Yoga Attire, hiking shoes, sandals, a light sweatshirt or jacket for the evening. 
– Should I exchange Money/Currency?
All major credit cards are accepted. Recommended to exchange $300.
Please Note: There are NO Refunds or Transfers. No exceptions: Unfortunately, we cannot do refunds. Please make sure you book only if you are 100% sure you will be able to join us.
We recommend you purchase travel insurance to cover yourself from unexpected expenses, eg: Cancelled flights, lost luggage, illness, etc…
Namaste